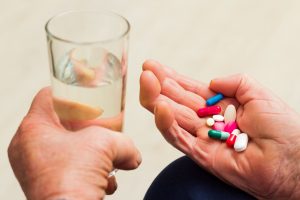 A variety of risk factors and the natural changes that develop with age leave seniors prone to a range of chronic health conditions. With life expectancies on the rise, so too, are lower respiratory diseases, cancer, stroke, heart disease and diabetes. Thanks to advances in science, we are now better equipped to manage these chronic conditions through a combination of medication and lifestyle choices.
The Risks of Poor Medication Management
Part of this combination involves Assisted Living communities. These residential alternatives provide a community atmosphere that fosters social interaction and keeps seniors active. Additionally, these facilities help seniors to properly manage their medication. Many chronic conditions require many prescriptions in addition to over the counter medication, and when they are not taken properly, leave seniors at an increased risk of adverse drug interactions.
Forgetting to take medication or accidentally ingesting too much medication can not only aggravate existing conditions, but it puts seniors at risk for more serious side effects. A white paper from the Center for Excellence in Assisted Living reports that a third of emergency room visits by older adults are caused by adverse drug events.
The Safety and Independence of Assisted Living
Transitioning to retirement communities gives families a sense of relief, knowing that their loved ones are receiving the care and support they need, while still retaining their independence. This alternative to more advanced nursing care provides a comfortable, home like feel inside a community atmosphere. Assisted Living balances the quality of life while enhancing safety and comfort.
Residents at Regency enjoy transportation to appointments, balanced meals, medication reminders, social activities, along with numerous other services and benefits. Our dietary team consults with nutritionists and dietitians to offer delicious meals that also cater to the management of chronic health conditions, such as diabetes.
Our daily calendars include multiple options for engagement, activity and social interaction. Numerous studies have concluded that social interaction is a critical component to happiness and a long life.
To learn more about Regency Huntsville, our Assisted Living program or services, call (256) 852-0033.