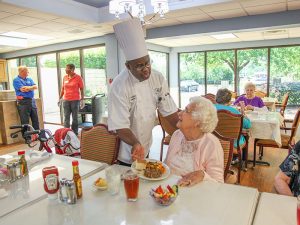 Regency Health Care and Rehabilitation Center, a 90 bed short term rehabilitation and long term health care community in Huntsville with over 140 associates, recently received the coveted Five Star rating in Overall Quality from the Centers for Medicare & Medicaid Services(CMS). The CMS Star ratings are released quarterly and rank providers in three key categories, "Survey Performance", "Staffing Ratios and Quality Measures". The rating system was devised by CMS as part of its Nursing Home Compare website to provide a "tool for consumers to use in choosing and making more informed decisions about a health care provider." Regency continues to outperform the industry with this recent ranking. Skilled Nursing with 5 Stars are considered to have much above average quality.
The CMS survey teams have full access to every operational aspect, assuring compliance with established standards, requirements and regulations. They analyze staffing, accounting for the mandated numbers within each level of care, with acute care requiring higher staff to resident ratios. The Quality Measure Rating has information on 11 different physical and clinical measures for short and long term nursing home residents.
CMS uses more than 12 million assessments of the conditions of nursing home residents in their Five Star rating system. CMS Star ratings are a highly respected performance indicator for health providers and are viewed as a key differentiator in the post-acute care industry. For many years, we've had an uncompromising commitment to putting our residents first and being on the leading edge of resident care, quality and experience, says Tim Taylor, Executive Director, Regency. "This recognition and endorsement by our residents and by CMS is a testament to the longstanding and continuing efforts of our dedicated care team professionals and our staff to excel in this arena. As Healthcare providers we are always learning how to enhance the health and well-being of our patients and this ranking system validates our efforts toward that goal."
Executive Director, Tim Taylor and Skilled Nursing Administrator, Linda Robertson, proudly remarked, that our care teams dedication to resident care is the priority for us, that's why we will continually strive for excellence, always pursuing and implementing the industry's best practices. Regency is proud of its ability to provide affordable, quality care to the Huntsville community and will continue its commitment to support the health and well-being of our residents.
About Regency Retirement Village
As a Continuing Care Retirement Community, Regency Retirement Village offers Independent Living, Assisted Living, Memory Care, Skilled Nursing, and Rehabilitation. Our 316 apartments are conveniently located on over 30 acres of beautiful scenery. We have been providing an exceptional retirement experience for Huntsville area seniors for over 3 decades. We deliver compassionate and exceptional care through the seasons of life for our residents and our community. At Regency, our residents enjoy a pampered carefree lifestyle filled with enrichment activities, chef inspired meals, and many more services all in a friendly family like atmosphere.