Independent senior living at Regency means you don't have to give up your autonomy. When you live here at our wonderful retirement community, you can rest assured that our staff works to create an environment that ensures your upcoming years are truly golden.
We've rounded up a host of reasons (ten, to be exact) why independent living at Regency is the absolute best choice for seniors. Those reasons are as follows:
1.) Your bestie is right next door.
One of the most wonderful aspects of independent senior living at Regency is the sense of community created by our wonderful residents and staff. You'll love spending your time chatting with residents and staff, making close friendships, and sharing meals, games, and community outings with good friends nearby.
2.) Chef prepared meals!
Julia Child said "people who love to eat are always the best people," and we couldn't agree more. Food is so important! We know that the chef-prepared meals we provide at Regency need to be not only nutritious, but delicious! Whether you have a sense of adventure in your dining habits, or prefer the tried and true Southern classics, our menus ensure there is something for everyone – and we're always open to requests!
3.) Games Nights and On-site Activities
Rest assured that here at Regency, you can BINGO your heart out! Our staff works diligently to ensure there's always something fun to do and look forward to. With games nights, musical performance, and activities galore, you'll always have something to get into!
4.) Planned Outings, Locally and Regionally
Our staff ensures there's always a jam-packed calendar of events for you to enjoy. Spend time with your friends, see the sights, and get some fresh air with our planned outings to local or regional attractions.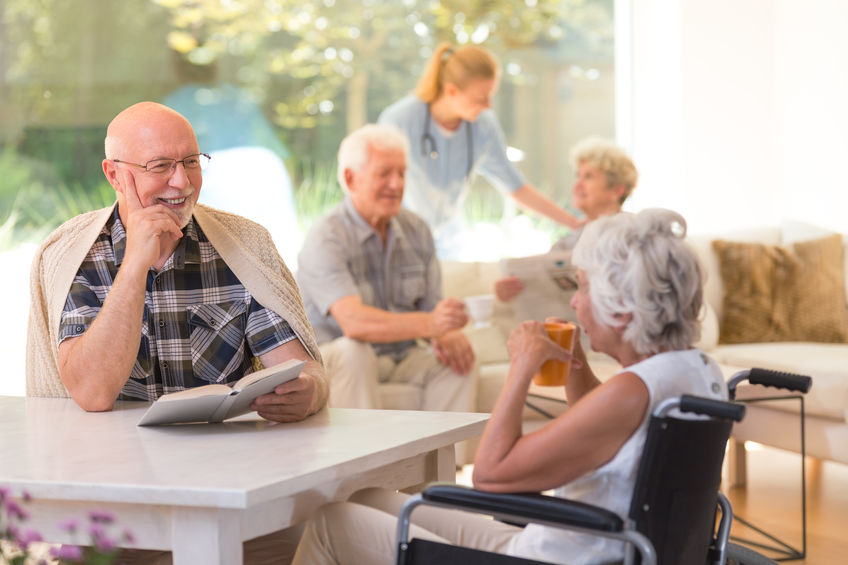 5.) Performances and Community Events
From educational classes, how-to events, crafts, and musical performances, there's always something interesting going on here. We like to keep things fresh and fun, and we know our residents appreciate breaking up their days with activities that keep the mind and body engaged.
6.) Pet Friendly Living
Enjoy the companionship that comes with having a pet! Our facilities allow residents to keep up to two pets in their apartments. That means you could have a dog, cat, bird, or other pet to keep you company, and brighten your days with that special love only an animal companion can bring.
7.) A Home of YOUR OWN
It's so important to have your own space– a place where you can retreat that's all yours. At our assisted living facilities, you can enjoy independent senior living at its finest with the best amenities and services available if or when you need them, while maintaining a living space that is for you and you only.
8.) Medical Staff Nearby, only if you need it!
It's a great perk for seniors who reside in independent living to have quick and easy access to assistance or healthcare if they need it, but can also continue living as independently as suits them. It's always a relief, especially to families of residents, to know that help is nearby just in case.
9.) On-Site Church Services
Our Christian-affiliated facility provides all sorts of resources for worship and bible study. We also have on-site church services to make it easy for our residents to fellowship with one another, and we're always creating fun and new ways for residents and community members to come together in the name of the Lord.
10.) A Healthy Dose of Elvis
Over the years, we've developed a close friendship with the King of Rock-and-Roll, and we're happy to host him for visits and performances as much as he can manage it! Our residents just love hearing the old classics, and reminiscing with all their friends. It's a great morale booster, and always such a fun time for all.
From fun events and friendship, to great food or assistance when necessary, we hope we've offered you a few great reasons to call Regency home! Create the kind of life you've worked hard to live, independence intact, and let our kind staff help ensure you have everything you need in the process! Independent senior living never felt so great.