Welcome to another edition of Therapy Corner.
Since April is National Occupational Therapy Month, I want to talk about therapy from an occupational therapist's perspective. I hope you find the following information helpful and informative.
Occupational therapy is conducted by occupational therapists and occupational therapy assistants (COTA). Occupational therapy assistants work directly with occupational therapists to provide rehabilitation for patients who are suffering from a variety of medical problems. Occupational therapy assistants have several ways they provide treatment and improve safety.
One of the ways an occupational therapist improves safety for their patients is through environmental modifications. You can improve your home by removing unnecessary clutter, such as throw rugs, to create safe walking paths between furniture. Another way to improve your home environment is to provide proper lighting throughout. You can also adapt your environment by placing non-slip rubber pads under couch and chair cushions. For safety in the bathroom, grab bars can be placed in the shower and next to your toilet to increase safety during these activities. Additionally, a shower chair, non-slip shower mat, and non-slip stickers can be added to reduce the risk of falls.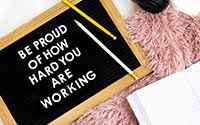 If you have any other safety questions or would like more information on how to reduce fall risk, please feel free to ask one of your local staff therapists. If you feel that you have some of the issues mentioned above and would like to explore therapy options, consult with your doctor about occupational therapy. I hope you find this information helpful. Our staff COTA is named Claudia. Please take a moment to wish her a happy Occupational Therapy Month! Until next time!
Your Restore Therapy Family,
Ryan Parden, PTA